City Council made a final vote to allow residents to own chickens, we sent a residential rezoning request for Ward 6 back to the Planning Commission, and discussed the current noise ordinance(s) and how we might improve them. Read on for more.
This is the Prairie Village City Council meeting recap for Monday, July 6, 2020. You can see the full agenda and board packet HERE.
Council members present at roll call: Herring, J. Nelson, Selders, R. Nelson, Limbird, Myers, Reimer, Runion, McFadden, Graves, and Gallagher. (Mr. Poling arrived shortly after.)
Here are the highlights of this meeting:
Presentations
Presentation on the Johnson County Community Housing Study
Kristy Baughman, United Community Services, presented the Community Housing Survey links, in both Spanish and English and mobile-compliant (paper copies available by contacting Kristy at kristyb@ucsjoco.org or 913-438-4764.):
https://www.surveymonkey.com/r/JoCoHousing
https://www.surveymonkey.com/r/JoCoHousingSpanish
Presentation on the Voter-to-Voter Municipal Challenge
Michael Poppa, with Mainstream Coalition, and John Pauldine with Mainstream Education Foundation presented the Voter to Voter "peer pressure with a purpose" project.
Launched in 2018, Voter to Voter is a nonpartisan "Get Out The Vote" project of The Voter Network. In their first year, the project reached 5,500 voters by the general election. The voters they connected with turned out at a stunning 25% higher rate than the general public. In the 2019 elections, it happened again.
Voter to Voter is continuing its outreach to many types of groups (businesses, churches, associations, book clubs, etc.) including, now, city councils and city staff to form ambassador teams.
Mission, Roeland Park, Westwood, and Prairie Village have all signed up so far. If you'd like more information on starting your own team or joining an existing team, check out https://votertovoter.org/votv to get started! Webinar trainings will be scheduled soon.
Committee Reports
Planning Commission
Jamie Robichaud, Deputy City Administrator, presented Council with information about a Planning Commission decision regarding rezoning 7631 Reinhardt Street from R-1A to R-1B that the City Council presides over in a quasi-judicial role to uphold, reject, or send back to the Planning Commission.
This was an interesting discussion. I thought I might be the only one somewhat skeptical of this re-zoning, but I was open-minded since new information would be provided at the meeting. But it turns out most on Council had concerns. I encourage you to watch the meeting starting at the 32-minute mark where you can see the additional information and hear the discussion.
Don't wanna watch? 😉 Bottom line, City Council (plus the mayor) unanimously sent this back to Planning Commission to review the whole neighborhood holistically instead of taking up these re-zoning issues one property at a time (there are a few more coming). A holistic view is best practice for re-zoning considerations. We also felt it was important, and worth the time and cost it would take, to engage the public on a grander scale regarding re-zoning and lot splits. Watch for community engagement sessions in the coming months when it is safe to hold large gatherings.
My comment was that I like the idea of increasing density in Prairie Village, but not by the method of tearing down one affordable home to be replaced by two $800,000.00+ homes on half-size lots. Here are some numbers I compiled post-meeting for reference:
The average appraised home value in Prairie Village as of 2020 is $377,986.00 per Johnson County.
The median household income in Prairie Village is $84,106.00.
Housing costs shouldn't be above 30% of household income (UCS of JoCo).
We should be building houses mostly in the $320,000.00 value range with home values above and below that value for a robust DIVERSITY of types and sizes of homes to attract residents from all walks of life.
This particular neighborhood was also specifically zones as R-1A sometime after most of the homes were built (the mid-1950s) even though that made a large quantity of the properties "legal non-conforming". To me, that means that a previous council had a vision or plan, and it would be great to research what that vision was and see if it's still valid in 2020.
Arts Council
I shared that the Arts Council members haven't met since our last City Council meeting, but that the Art of Photography "Show" and store are now available online HERE and encouraged everyone to take a look. Here are a few of my favorites:
Statuary Committee
Terrence Gallagher, Ward 6, representing the Statuary Committee, reported on our recent meeting (I serve on this committee, too, as well as Ms. Nelson) where we heard from Paul Benson, former Nelson-Atkins Conservator of 3-dimensional art and our city contractor since 2016 for statuary repair, cleaning, and maintenance. We will soon have a prioritization list and budget for 2020 cleanings, as well as a completed appraisal of our inventory, and new appropriate tarps for winterizing fountains.
VillageFest (To Go) Committee
Courtney McFadden, Ward 5, thanked Meghan Buum and VillageFest organizers, volunteers, and attendees for their "Can Do" attitudes during this crazy time of COVID-19 with lists of all the things we can't do. It was a wonderful morning, and there may be video footage of various councilors, and the mayor, breaking out their dance moves. Maybe google it. 🤭
Mayor's Report
COVID-19 infection rates have taken a turn for the worse. Where our infection rate was less than 5%, it is now over 7%+ and rising.
Johnson County upheld the State of Kansas mask order, and PV began implementation on July 3rd as directed. For highlights of the order as listed by the Mayor, see HERE.
Please use the County hotline to report mask order violations – 913-715-3003. Do NOT dial 911; that is for emergencies only.
Chief Schwartzkopf was amongst the panelists at the JoCo NAACP's Town Hall Meeting with local law enforcement. (I wish I could find a link to the recording – let me know if you find it!)
At my (Bonnie's) suggestion, Council and the mayor will partake in the Implicit Bias training that Major Roberson has crafted for PD staff. We will schedule it once we can meet in person, and it will become standard onboarding for new Council members, just like it is for PD and all city staff.
PV has a Civil Service Commission that reviews police firings, hirings, etc., and the mayor, Chief, and staff are looking into possibly expanding that into a review board as well a la suggestions from NAACP and other community groups. (The Civil Service Commission is a volunteer committee, and always seems to be short volunteers, so if you're interested, look into it toward the end of the year when the committee application is open and the expansion may be more formalized.)
Detective Jason Wakefield has retired from the PV Police Department after 20 years of service, and we wish him a wonderful retirement.
Staff Reports
Ashley Freburg, Public Information Officer & Deputy City Clerk, gave us a quick show-and-tell of the new PV website and its new functionality, including better accessibility for differently-abled visitors, enhanced search functions, and call to action buttons. Check it out HERE.
Meghan Buum, Assistant City Administrator, said that the dedication for the new sculpture at 71st and Mission has been postponed in coordination with the local sculptor and donor, but that Skateboarding 101 will be coming back soon. Walk & Read with JoCo Library will be happening in the near future also. Keep an eye on the website for updates on all of these.
Lisa Santa-Maria, Finance Director, updated us on monthly sales tax revenues and shared that it wasn't as bad as we feared. The sales tax is only down about 2% overall because the Use Tax was up 27%.
Major Byron Roberson, Deputy Chief and Patrol Commandor, reporting while Chief Schwartzkopf is on vacation, shared that PD is working with the community as needed on mask-wearing (very few calls have come into PVPD), meeting with and listening to several residents who have felt they've been victims of racial profiling in PV, and are reviewing policies to make them even better.
In Major Roberson's 25 years with the PVPD (wow!), he has seen many changes and improvements in the department, and has seen them move from a service-oriented organization to more of a partnership with the community, and that continues to this day.
Jamie Robichaud, Deputy City Administrator, updated us on the final Large Item Pickup numbers: In a normal year for this program, Republic collects 200 tons of trash. This year they collected 400 tons. Staff will be back in the fall with options on how to improve this very popular program.
One way to improve this program, and I was guilty of this myself this year, is: don't put your mattresses out for Large Item Pick-up. If the mattress is in good shape, contact Sleepyhead Beds, and they will pick up your mattress for a donation of $40. Your bed will help a child have a place to sleep within one month of pickup.
If your mattress isn't in good shape, Avenue of Life will charge individuals $5 to drop off a mattress or will pick one up for $10. Their workers will take the mattresses and box springs, reduce them to their components — cotton, foam rubber, wood, and metal — bale those pieces up, and sell them as commodities. The commodities do not generate a high return, but they break even, make a huge impact on the environment, and seven people have a job. Win-win!
Old Business
Council voted to direct staff to research and present modifications to the Mayor's emergency powers at a later date in light of certain JoCo Commissioners' recent push to overturn the State mask order. It was asked if we could approve the ordinance that was presented a few weeks ago, but federal, state, and county orders are coming too fast and changing too often for an ordinance to be effective.
New Business
Consider an amendment to Chapter II (Animal Ordinance) of the Municipal Code (Backyard Hens)
Approved 8-4 with Gallagher, R.Nelson, Myers, and Runion voting against. This won't go into effect until after the Planning Commission updates the zoning regulations, and even when it does go into effect, residents need to check with their HOA and make sure their covenants allow it.
Consider the purchase and programming of new public safety radios for the Police Department
Approved unanimously. The police radios are ten years old and are not serviced by Motorola anymore, nor do they work with the regional public safety communication system.
Consider (Final) Amendment No. 4 with McCownGordon for the guaranteed maximum price (GMP) for construction of the Public Works facility
Approved unanimously.
Consider Project DRAIN-19X storm drainage program construction contract with Kansas Heavy Construction, LLC
Approved unanimously. This project includes work on State Line from 71st to 75th Streets and will include adding a sidewalk! 😁
Council Committee of the Whole
Discussion of current noise ordinance(s) regulating construction
Major Roberson gave a bit of background on the city ordinances that they use most often when responding to noise complaints in Chapters 8 and 11 of the city code. Councilwoman Nelson moved that we model our noise ordinance after Mission Hills which has slightly smaller windows for heavy construction equipment and overall noise. There was discussion about contracted work vs. DIY homeowner work and hours of acceptable noise, as well as non-traditional workers (third shift, nurses, etc.) and reasonable expectations for peace and quiet so they can rest. No changes were approved at this time – we've just directed staff to look into it and make suggestions.
Just a Couple Reminders:
Masks or cloth face coverings are required in Prairie Village and ALL of Johnson County as well as most of Kansas and the KC Metro on the Missouri side.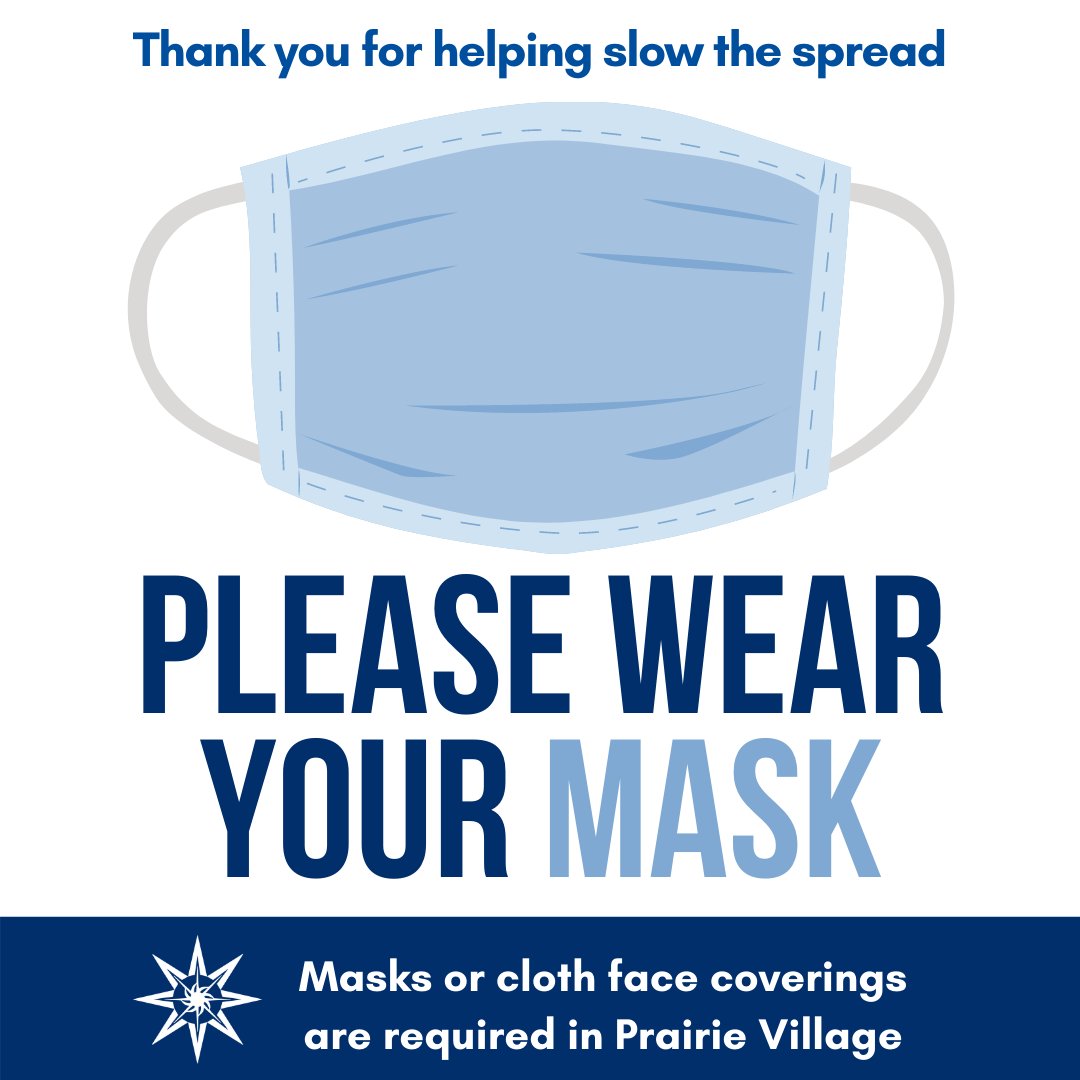 Upcoming Events
July 7th – Planning Commission, 7:00 p.m.
July 8th – Arts Council Meeting via Zoom
July 20th – City Council Meeting, 6:00 p.m. on Zoom via Facebook Live which is accessible to ALL residents even if you don't have a Facebook account.
👋
STAY WELL & enjoy the rest of the week.