City Council overturned two Planning Commission approvals of residential rezoning requests for Ward 6 on grounds of the 8 Golden Factors, heard an update from Chief Schwartzkopf on the latest peaceful demonstration in PV, and discussed the constant and frustrating construction noise in certain parts of the city. Read on for more.
This is the Prairie Village City Council meeting recap for Monday, August 3, 2020. You can see the full agenda and board packet HERE.
Council members present at roll call: Herring, J. Nelson, Selders, R. Nelson, Limbird, Reimer, McFadden, Graves, and Gallagher. Mr. Poling and Mrs. Myers were both absent.
Here are the highlights of this meeting:
Public Portion
Budget Hearing – Adopt the 2021 budget
Lisa Santa Maria, Finance Director, gave a brief overview of the final 2021 budget as previously presented, and then Council unanimously voted to adopt the 2021 Budget as certified in the amount of $37,443,447 with ad valorem tax in the amount of $9,066,638. (No public questions were sent in regarding the budget.)
Public Participation
Dr. Jameelah Lang, a newer PV resident and a (self-identified) rare non-white resident for our city, joined us to ask how City Council can do more in our community to continue the momentum we're seeing in advancing racial justice in our nation. She referenced the Overland Park task force that's been created and asked if we could also create one, and reach out to our residents of color for more representation at the table to address issues in a specific and focused way.
Typically, public participants don't get direct responses to their queries, but Mayor Mikkelson did respond to Dr. Lang and referenced some of the things he, staff, and the Chief have been working on, including modifying the Civil Service Committee to include public review of officer complaints.
I look forward to seeing the proposed changes for the Civil Service Committee and making it as robust as possible, but I'd also like to see a community committee of as many interested residents as possible. Mayor also mentioned our Council statement on racial justice, but those are just words, and we need to see some action and results. I think a new — call it a committee – call it a task force — whatever you want to call it, would be a great incubator of ideas for ways Prairie Village can improve. If you're interested in such a committee and/or have ideas for what it can be or should address first, please email me at blimbird@pvkansas.com.
Committee Reports
Planning Commission
Graham Smith, PV Planning Consultant, presented Council with information about the Planning Commission review of two rezoning requests to modify from R1-A to R1-B.
Basic, partial definition of the PV zoning categories for these applications:
R1-A – Single-family residential, lots must be a minimum of 80′ wide.
R1-B – Single-family residential, lots must be a minimum of 60′ wide.
The 7632 Reinhardt application and the 7641 Reinhardt application are virtually identical to each other and to the 7631 Reinhardt application from July, so I'm not going to detail the particulars. Mr. Patterson, father of one of the property owners (or is HE the owner? that was fuzzy for me) and attorney for one of the developers, gave a human context to the property conditions, particularly the structures (houses and garages) themselves.
Unfortunately, the condition of the existing structures on the properties is not in question here and is not even pertinent to the rezoning requests. So, in my assessment, the current zoning of R1-A does not preclude the development of the properties (Golden Factor #3), and the "character" of the neighborhood is clearly large, wide lots, and would be dramatically, and negatively, altered by cramming in multiple houses on single lots (Golden Factor #1). Other councilmembers took exception to other Factors as well, but I won't list them here.
FYI – 8 Golden Factors
Both of these requests were NOT approved. In other words, Council overturned the Planning Commission decisions 10:1. The only vote to approve for both requests came from Councilwoman McFadden. Mayor clarified that while we appoint the Planning Commission members and trust their expertise and service, Council is not just a rubber stamp for their decisions and it is our duty to review all items closely and represent the citizens who elected us to our positions.
Watch for more discussion on residential redevelopment as we finalize Village Vision 2.0.
Tree Board/Environmental Committees
These two committees, chaired by Mr. Herring and Ms. Nelson respectively, will be working together, in conjunction with staff, to create a residential tree conservation program to maintain and replace our existing tree canopy in Prairie Village. Mayor also advised them that MARC has, or is currently working on, draft language for such a program.
Arts Council
I shared that the Arts Council has extended voting for the Art of Photography People's Choice Award at vote.artspv.org until August 12th. I also reminded them that an online store is available HERE. I encouraged everyone to take a look. Here are a few more of my favorites:
Mayor's Report
COVID-19 new cases seem to have stabilized around 9-10% for the last few days, but we need to get to 5% and under.
We need to do our part to keep the positive trends going: wearing masks, socially distancing, washing our hands, eating at home, etc., etc., etc.
Mayor gave a summary of actions taken so far by staff and PVPD in regard to racial justice. (See previous recaps. Nothing new in a while… I look forward to changes to the Civil Service Commission and a possible task force-type committee.) You can hear the Mayor's summary around the 1:50:00 mark on the video if you'd like to hear it again.
Meadowbrook Park received the Capstone Award for "Community Impact" from the Kansas City Business Journal.
Staff Reports
Chief Schwartzkopf, reported that they only received four calls to Dispatch this week about the #BlackLivesMatter rally and march that started and ended at Weltner Park. The organizers of the event again worked with PVPD to figure out logistics and finalize the plan together. You can read a little about that partnership HERE. PVPD and City of Leawood PD worked together and again opted to keep a very low profile while doing a better job this time to answer calls for harassment should they arise. While there was still at least one anti-protest aggressor (circling the block in a car per Dr. Lang), it was not nearly as egregious as last time, and no citations were issued this time.
New Business
Consider cancellation of yearly animal enumeration in 2020
City Clerk staff coordinate a yearly animal enumeration project in an effort to ensure all pets in the City are licensed and current on rabies vaccinations (per Municipal Code Section 2-115, "Enumeration of Animals"). A specific area of the City is selected for enumeration each year, and temporary employees are hired to walk the neighborhood and knock on doors of homes at which pets are not currently licensed.
Around 300 new pets are licensed each year during this process, ensuring that they are properly vaccinated and documented. However, due to the COVID-19 pandemic, the staff is recommending the cancellation project in 2020 in order to eliminate face-to-face contact.
We voted unanimously to cancel for 2020. It was also noted that staff will evaluate the effectiveness of alternate methods this year (postcards, social media, etc.) and make a recommendation on whether to restart the door-to-door enumeration post-COVID-19. There have been instances of residents threatening the employees for being on their property (while only doing their jobs), and the safety of our employees is very important to us. If we don't need to do the door-to-door to get similar results, that would be preferable.
Council Committee of the Whole
Discuss noise ordinance concerning private property construction
On Council direction, staff researched neighboring cities ordinances and looked at Prairie Village's own struggles with a clear, simple schedule and proposed the following options:
Option 1 with Mission Hills Components
Monday – Sunday (including Holidays) from 8 am until 8 pm. [recommend set time regardless of the day of the week to eliminate confusion that has been problematic in the past]
Option 2 consistent to Neighboring Agencies
Monday – Sunday (including Holidays) from 7 am until 9 pm. [recommend set time regardless of the day of the week to eliminate confusion that has been problematic in the past]
Option 3 with Mission Hills and Neighboring Agency Components
Monday – Sunday (including Holidays) from 8 am until 9 pm. [recommend set time regardless of the day of the week to eliminate confusion that has been problematic in the past]
Note – public infrastructure improvements such as streets, storm channels, etc would still be regulated under 8-505 that specifies hours of operation between 7 am – 9 pm.
Particular concerns for staff and councilmembers include (in no particular order):
Heat exhaustion/stroke for employees if they have to work later in the afternoon during the summer months instead of starting as early as 7am.
Differentiating between homeowners and contractors could be a tricky legal hurdle.
Whether to have different starting hours on weekends vs. weekdays.
Contractors staging earlier than the morning start time, no matter when it is, running trucks and warming up equipment.
Not limiting evening hours for working homeowners who DIY in the evenings after dinner.
Making sure city infrastructure projects are not affected by any changes in this ordinance.
Giving our residents at least one day per week without any construction noise outside their windows and yards.
Whether or not to exclude work on holidays. Quiet, fun family time for residents and contractors vs. time and a half to double-time opportunities for those workers.
Council voted 7:3 for Option 3 so staff can move forward to the next step. Once we have the draft ordinance at a later date, we can argue the finer points effecting the items above and anything else that may be of concern. Email me if you have any thoughts on these possible changes! 🙂
That's all for now, folks.
Thanks for hanging in with me!
I hope you found this engaging.
Just a Couple Reminders:
Residents and visitors are required to wear masks or cloth face coverings in Prairie Village and ALL of Johnson County as well as most of Kansas and the KC Metro on the Missouri side.
Also, have you traveled recently? If so, check out the graphic below to see if you should quarantine: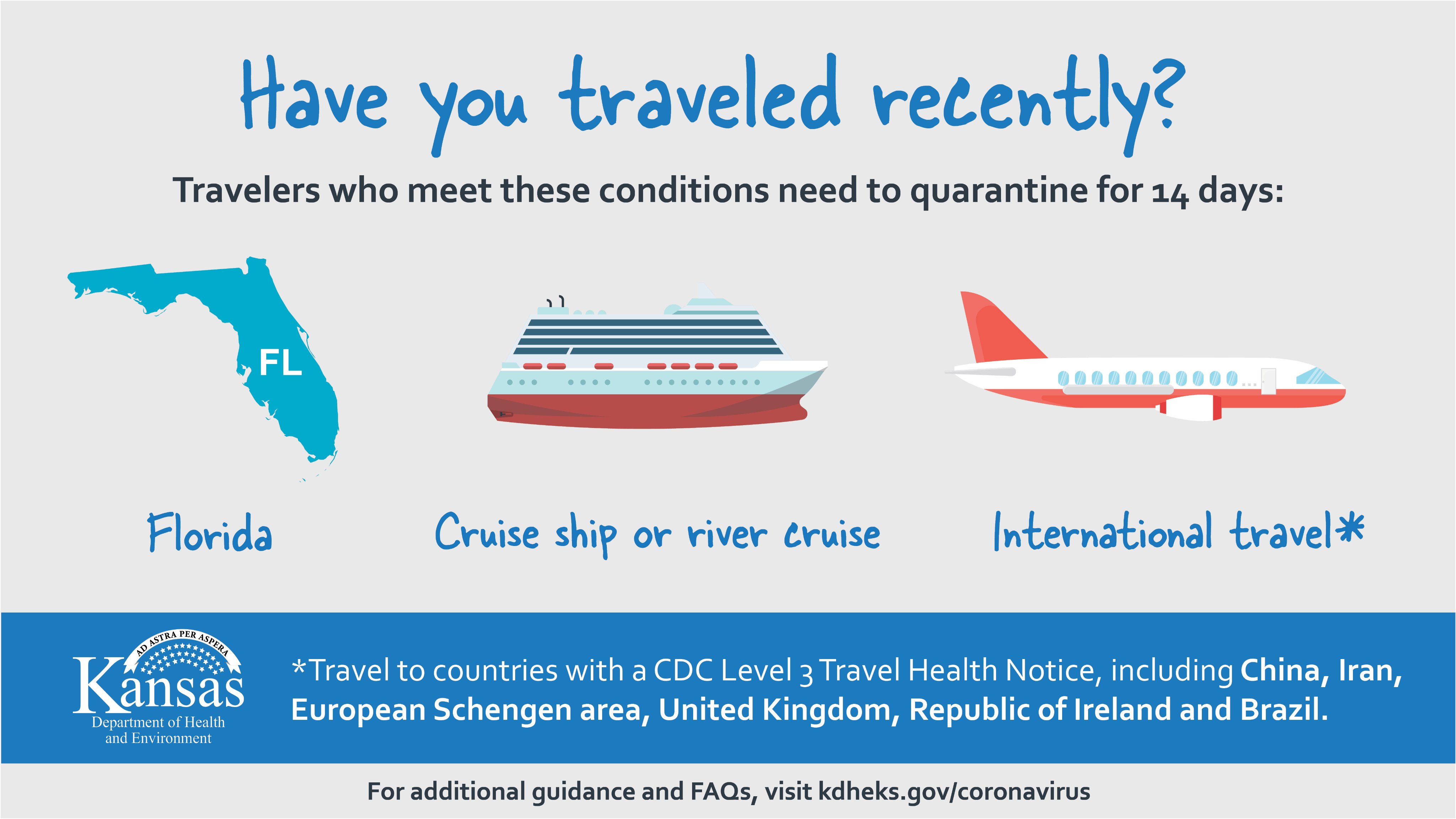 Upcoming Events
August 4th – Planning Commission, 7:00 p.m.
August 12th – Arts Council Meeting via Zoom
August 17th – City Council Meeting, 6:00 p.m. on Zoom via Facebook Live which is accessible to ALL residents even if you don't have a Facebook account.
September 7th – Labor Day, City Offices Closed
👋
STAY WELL & enjoy the weekend!