City Council discussed changes to the Noise Ordinance, finalized the allowance of backyard chickens, and heard a presentation on protecting personal and private trees within the City during construction. Read on for more.
This is the Prairie Village City Council meeting recap for Monday, August 17, 2020. You can see the full agenda and board packet HERE.
Council members present at roll call: Herring, J. Nelson, Selders, R. Nelson, Poling, Myers, Reimer, Runion, McFadden, Graves, and Gallagher. I was absent this week!
My apologies for missing this weeks meeting. I had a very last minute family obligation come up, and I sent some notes to City staff on agenda topics knowing that my absence would mean those things may not get discussed, but at least as an FYI. I was happy to learn later that others on Council had the same thoughts, and they did get brought up by other members!
Here are the highlights of this meeting:
Public Participation
Will Ruder, Executive VP of Home Builder's Association of Greater Kansas City, spoke in regards to the noise ordinance changes being discussed later in the meeting. He didn't, as I had expected, ask for compromise on the times to retain an extra hour during the hot summer months for worker safety. He only talked about projects taking longer and added expenses and property taxes, which left me a bit quizzical. He argued that if projects take longer, the cost to build will go up (for the property owner), and the taxable property value will go up thereby increasing property taxes – I don't think that's how property taxes are calculated, y'all. 🙄 Construction dollars spent compared to Property Value is not a 1:1 ratio. Anyone who has remodeled their home then tried to sell or refinance it knows that.
Committee Reports
Planning Commission
Jamie Robichaud, Deputy City Administrator, presented Council with the Planning Commission's approved changes to the zoning ordinance allowing backyard hens. Councilman Herring requested that links to CDC's healthy handling of fowl and other safety regulations be shared on our City website, which Ms. Robichaud confirmed will happen. Councilmen Herring and Nelson and Councilwoman Myers all would have liked to see a permitting process included with this, but deferred to the Planning Commission's recommended direction. The change passed 11-1 with the mayor weighing in (since it was a zoning issue) with a yea, and Councilman Gallagher voting nay.
Tree Board/Environmental Committees
These two committees, chaired by Mr. Herring and Ms. Nelson respectively, were represented by residents and committee members, Kevin Dunn and Frank Riott, to present on the important need for protections for our city trees during construction projects.
My favorite quote, from Councilman Poling: "Our trees are undervalued both culturally and economically." That pretty much summed up the whole presentation in my mind.
No action was taken at this time, although all councilmembers were interested in a more detailed discussion at a future date, but look for more info soon. There will probably be a request for an ordinance simialr to those in Fairway and Mission Hills which have been rolled out and implemented successfully. As for me and my family, one of the major things that drew us to Prairie Village 12 years ago was the mature tree canopy. I'd hate to see us lose those through negligence and lack of forethought as our city grows and changes moving forward.
Drug & Alcohol Council of JoCo
Councilwoman Reimer represents Prairie Village on this Council. She attended a Zoom call on the grant review process to determine allocation for 2021 calendar year. As determined by the state, these funds must be used for non-profit programs whose principal purpose is alcohol and drug prevention and education. Twelve groups have submitted applications and decisions will be announced in early November.
Teen Council
Councilwoman Reimer chairs this committee, and has been in contact with school staff, working together with them to communicate teen council options electronically to interested students this year. They are working with City staff on updating the Teen Council webpage and application process for COVID-related concerns. The timeline has been pushed back also, but Ms. Reimer is still hoping that new members will be able to join council meetings by early October. *I learned something new here: Teen Council counts as service hours for high school graduation!
Arts Council
Councilman Nelson updated that the Arts Council meetings are at 5:30 p.m., not 5:00 as shown in the packet.
Mayor's Report
We're 7 months into this COVID-19 crisis.
Current standings:

Numbers are not great (understatement) based on JCDHE: our 14-day moving average for new cases is 11.2%. We need to get below 5% before officials are comfortable sending our students back to the school environment.
New cases per day are relatively flat, but still quite high at about 97 per day.
New hospitalization are on a downward trend and death rate is relatively low.
KEEP FOLLOWING THE GUIDELINES

wear masks
wash hands
socially distance
stay home when you're not feeling well

*I'm happy to announce that this is happening!!* A new Diversity Task Force will develop a set of prioritized advisory recommendations to attract and retain diverse residents in PV by the end of 2020 or early 2021. Members:

Pastor Dennis Solis, Resident
Dr. Jameelah Lang, Resident
Todd Harris, Resident
Etienne Clatanoff, LCPC, Resident
Major Byron Roberson, Police Representative
Jamie Robichaud, Staff Lead
Melissa Brown, Planning Commission Member
Michael Shook, NAACP Representative
Tucker Poling, Councilperson
Inga Selders, Councilperson
Mayor Mikkelson

Mayor hosted a panel on Environmental, Social, and Governance (ESG) factors affecting businesses with the Metro KC Climate Action Coalition.
Mayor encouraged councilmembers to attend the virtual Housing Summit with United Community Services on August 26th.
Mental illness calls to PVPD were up in the first half of 2020, and we will be keeping an eye on that trend.
Renewables Direct Program: Evergy now has a wind farm under construction and as early as Decmber 2020 we will be getting our local energy from wind.
Staff Reports
Wes Jordan, City Administrator, addressed current COVID-related expenses (included in packet) that have been submitted to the County for reimbursement, as well as an option for a screening mock-up in the council chambers. In response to councilmember questions, he also added:
They are pulling together recommendations and estimates for air circulation modifications to the building that they can submit for COVID-reimbursement before the County deadline
Most Northeast JoCo cities are stil meeting via Zoom due to similar space constraints to PV's
They are not fielding resident complaints regarding lack of in-person meetings. There was one communication, but it was a misunderstanding. We have added public participation to the Zoom capabilitites now, so that should be helpful.
Jamie Robichaud updated Council on Village Vision 2.0. Many meetings were postponed over the summer due to COVID-19, and it's still not looking possible to meet in person for public engagement and robust discussion. So, a rough timeline is:
August 25th – Planning Commission work session to review the final draft of Village Vision 2.0
TBD – A publicly-accessible virtual Resident Meeting to learn more about Village Vision 2.0 including a live Q&A
September 28th – City Council work session via Zoom to finalize the direction
October 6th – Planning Commission Public Hearing for adoption of Village Vision 2.0
October 19th – City Council final vote for adoption
Jamie also introduced Prairie Village's new Human Resources Manager, Cindy Volanti. Cindy worked in Riley County government for 28 years and the last 15 as their HR manager. (Even though I was watching the recorded version of the meeting, I totally forgot and waved to welcome her when everyone else did. 🤪)
Major Roberson, attributed the lowering first half of the year crime statistics to resident cooperation in addition to PVPD efforts. There have, however, been an uptick in car thefts and break-ins, so PVPD is ramping up efforts to prevent and catch those events as they happen.
Prairie Village Citizens Academy is going to happen this fall, and they are taking applications now. *I highly recommend this program!!
Old Business
Consider Extension of Emergency Declaration
Council voted 9-2 to extend the City Emergency Declaration through the 15th day of November 2020, unless terminated earlier by the Mayor or City Council, or extended further by the City Council with Councilwoman Myers and Councilman Runion voting nay.
Council Committee of the Whole
Discuss amendments to the Municipal Code pertaining to allowable hours for private property construction.
On Council direction, staff drafted a construction schedule for discussion, and Council discussed and modified said schedule. After suggestions from Councilors Reimer, Poling, and Selders, Council ultimately approved 7-4:
Summer Months (May 15 through September 15):

Monday through Friday (excluding Federal holidays): 7:00 a.m. until 8:00 p.m.
Saturday and Sunday: 8:00 a.m. until 8:00 p.m.
Federal Holidays: 8:00 a.m. until 8:00 p.m.

Non-Summer Months (September 16 through May 14):

Monday through Friday: 8:00 a.m. until 8:00 p.m.
Saturday and Sunday: 8:00 a.m. until 8:00 p.m.
This is STILL not final. This was a vote during Council Committee of the Whole, and this change will still need to be voted on by the whole Council during a future Council session.
That's all for now, folks.
Thanks for hanging in with me!
I hope you found this engaging.
Just a Couple Reminders:
Residents and visitors are required to wear masks or cloth face coverings in Prairie Village and ALL of Johnson County as well as most of Kansas and the KC Metro on the Missouri side.
Also, help Johnson County by sharing how COVID-19 has impacted you (https://jocogov.org/article/2020/08/10/14483):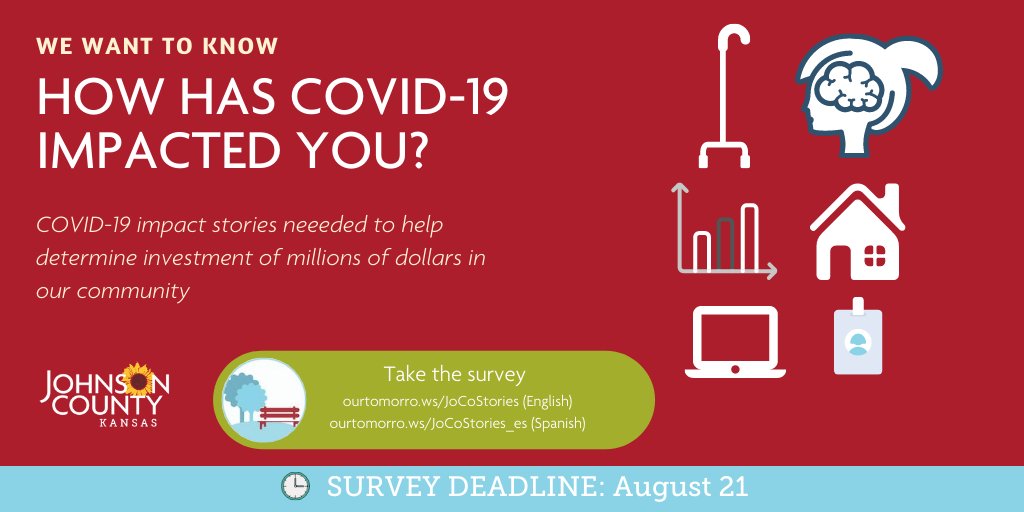 Upcoming Events
August 25th – Planning Commission Work Session on Village Vision 2.0
September 1st – Planning Commission, 7:00 p.m.
September 7th – Labor Day, City Offices Closed
September 8th – City Council Meeting, 6:00 p.m. on Zoom via Facebook Live which is accessible to ALL residents even if you don't have a Facebook account.
September 9th – Arts Council Meeting via Zoom, 5:30 p.m.
September 9th – Parks & Rec Committee Meeting via Zoom, 6:30 p.m.
👋
STAY WELL & enjoy the weekend!