Check out next week's agenda! Please let me know if you have any questions by emailing me at blimbird@pvkansas.com.
The next meeting of the Prairie Village City Council will be via Zoom and Facebook Live. You do NOT have to have an FB account to view the meeting. You will be able to view it HERE when the time comes.
If you would like to speak LIVE during the public participation portion of the meeting, please notify City Clerk Adam Geffert at cityclerk@pvkansas.com, and provide your name, address, and email address prior to 3 p.m. on the day of the meeting. The City will provide you with a link to join the meeting and will call on those who signed up to speak once public participation begins. Members of the public will not be able to participate in the meeting unless they sign up with the City Clerk ahead of time. Each individual that wishes to speak will be given 3 minutes. To submit a written comment to Council, please send your comments to the same email address by the same deadline.
Here are the highlights of the City Council Meeting Agenda for the Prairie Village City Council Meeting – Monday, November 16, 2020: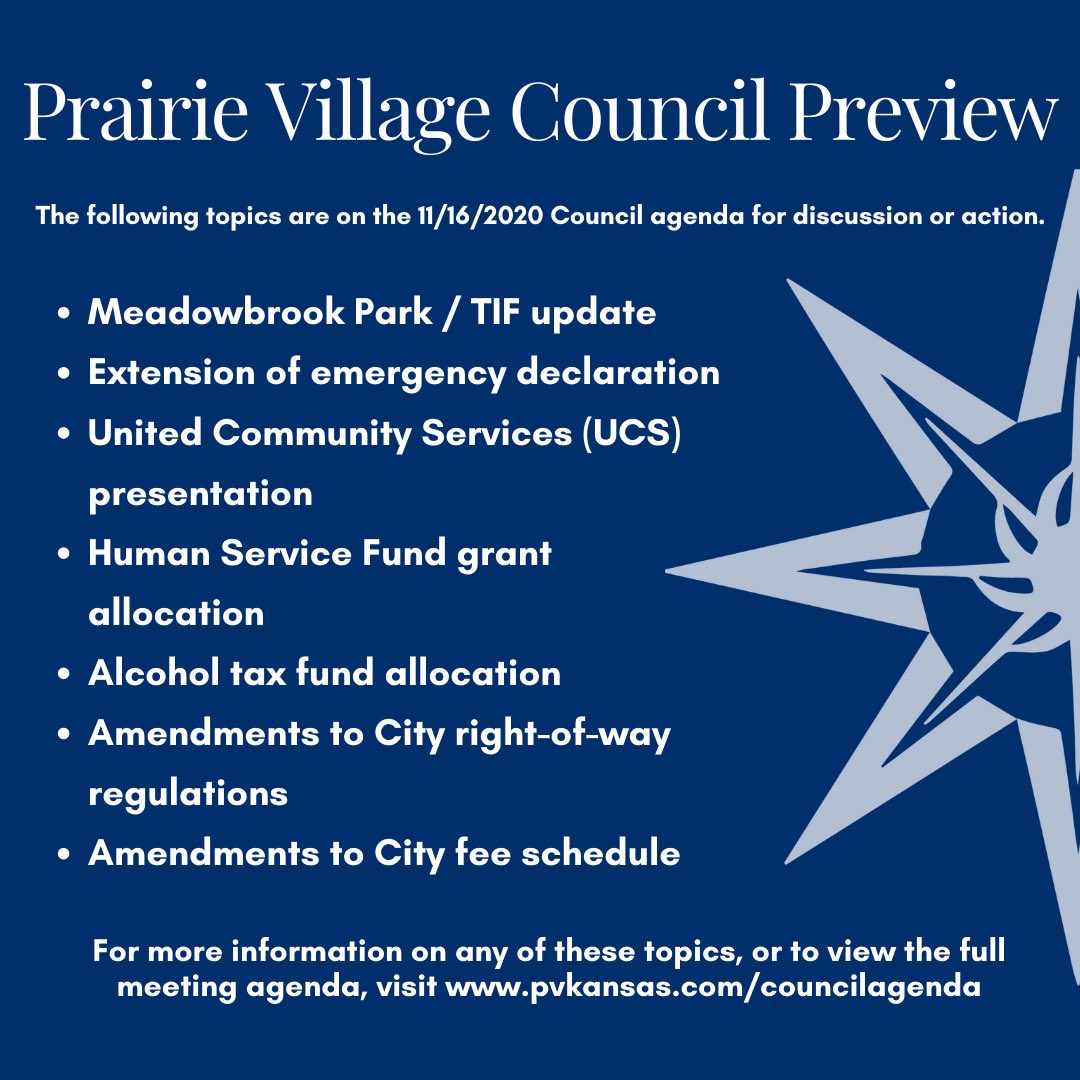 The image above includes Prairie Village Council Preview and the following bullet points:
Presentation: Meadowbrook Park TIF Update
Consider Emergency Declaration Extension
Presentation: United Community Services
Consider 2021 contribution allocation recommended by UCS for Human Service Fund grants
Consider 2021 contribution allocation recommended by the Drug and Alcoholism Council of Johnson County for the 2021 alcohol tax funds
Approve amendments to City right-of-way regulations
Approve amendments to City fee schedule
Executive Session (closed to the public)
See the whole agenda and Council packet HERE.
Have a wonderful weekend!
👋