Check out next week's agenda! Please let me know if you have any questions by emailing me at blimbird@pvkansas.com.
The next meeting of the Prairie Village City Council will be via Zoom and Facebook Live. You do NOT have to have an FB account to view the meeting. You will be able to view it HERE when the time comes.
If you would like to speak LIVE during the public participation portion of the meeting, please notify City Clerk Adam Geffert at cityclerk@pvkansas.com, and provide your name, address, and email address prior to 3 p.m. on the day of the meeting. The City will provide you with a link to join the meeting and will call on those who signed up to speak once public participation begins. Members of the public will not be able to participate in the meeting unless they sign up with the City Clerk ahead of time. Each individual that wishes to speak will be given 3 minutes. To submit a written comment to Council, please send your comments to councilmembers@pvkansas.com by the same deadline.
Here are the highlights of the City Council Meeting Agenda for the Prairie Village City Council Meeting – TUESday, January 19, 2021: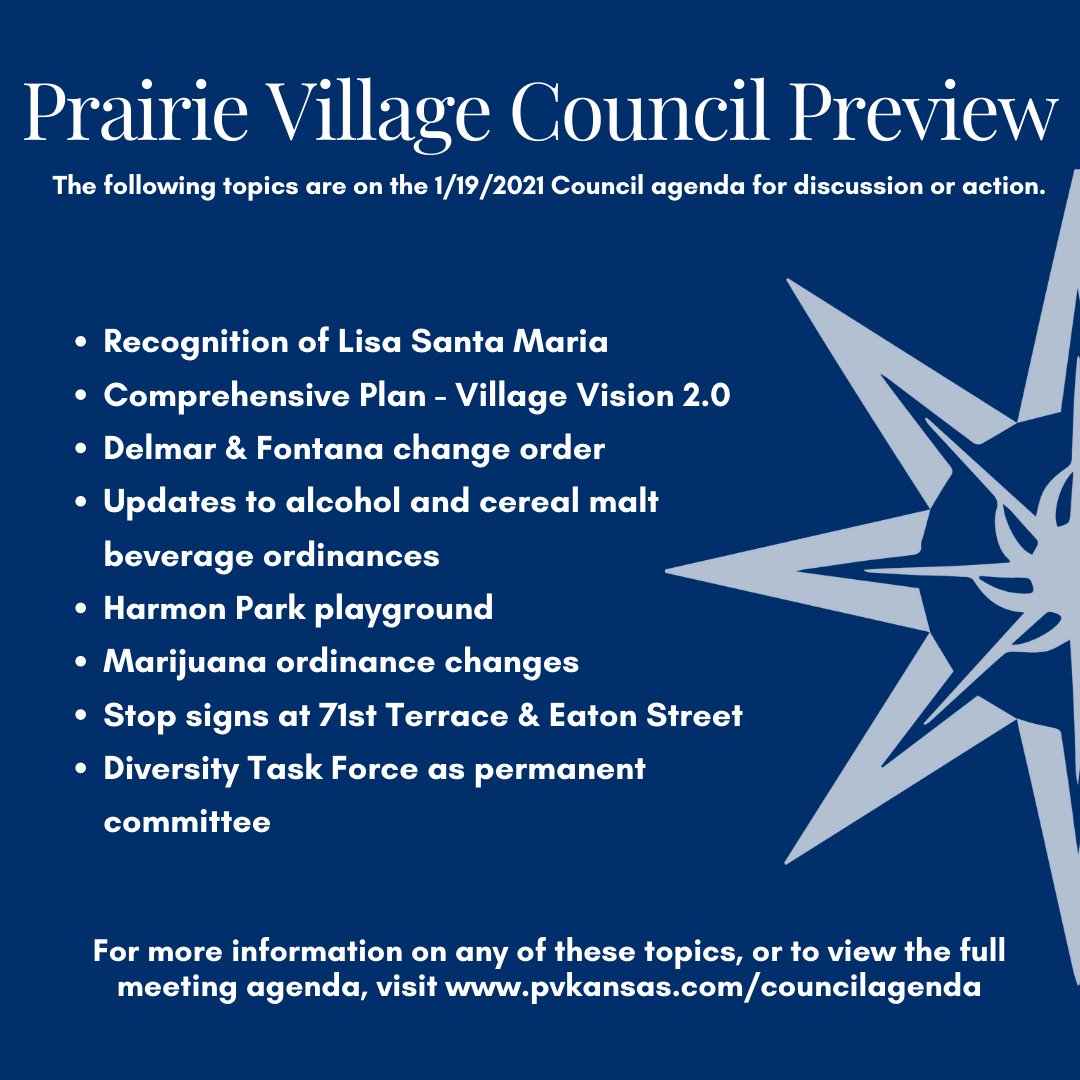 The image above includes Prairie Village Council Preview and the following bullet points:
Recognition of Lisa Santa Maria, outgoing City Finance Director
Consider adoption of Village Vision 2.0, a revised comprehensive plan for the City of Prairie Village

Here is the FINAL DRAFT FOR YOUR REVIEW.
The main part of the document contains the actual proposal we will be voting on, and it is followed by some helpful information. In particular, you can find a summary of policy revisions from the current 2007 Village Vision plan and the proposed Village Vision 2.0 at pages 138-142, a timeline of this process on pages 143-146, and a discussion of revisions made by the Council from an earlier draft, at page 137. (Thank you, Councilman Herring, for this breakdown.)

Consider final change order for Delmar and Fontana low water crossing project
Updates to Alcohol and Cereal Malt Beverage Ordinances to align with revised Johnson County law
Discussion of Harmon Park inclusive playground
Discussion on marijuana ordinance changes
Consider installation of stop signs at the intersection of 71st Terrace and Eaton Street (in Ward 3, woot woot!)
Consider approval of revisions to Council Policy 001 (volunteer committees, including new Diversity Task Force)
See the whole agenda and Council packet HERE.
Have a wonderful weekend!
👋