Presentation: Legislative Update
Little Government Relations gave Council a brief synopsis of the current legislative session:
COVID relief (ARPA) funds are coming.
The Tax Bill veto was overridden.
The Transgender Bill veto was sustained.
The Budget without the K-12 funding failed, and there are not enough votes pass it without that funding.
The state, counties, and municipalities should have COVID relief funding usage guidelines by May 12th.
There is an opioid settlement in the works, and that money will be earmarked for addiction treatment.
Presentation: National Police Week Proclamation
Mayor Mikkelson read the proclamation inserted below naming May 9-15th National Police Week in Prairie Village, as well as thanked Chief Roberson, former Chief Schwartzkopf, and all of the PVPD officers for their dedication and progressiveness in community policing. Mayor noted that while they're not perfect, PVPD has been well ahead of the curve in many areas, including keeping detailed records of stops and complaints and analyzing those year after year to find areas for improvement. PVPD also already had use of force policies in place and prohibits certain techniques, whereas many of our surrounding forces and forces nationally are scrambling to update their polices and make these basic improvements.
May 15th is designated as Peace Officers Memorial Day, and Prairie Village will publicly salute and honor all fallen officers and their families in front of City Hall at 7:45 a.m.. All are welcome, and there is plenty of room to socially distance.
Special Use Permits (SUP)
Per standard process, City Council takes up final approval or rejection of Special Use Permits that have been approved by the Planning Commission. At this meeting there were two:
Brighton Gardens – requested a revised SUP for a proposed building addition to bring their facility up to current standards of care and amenity for their residents. They are not adding any beds or staff. The new owners have met with local residents, both to the east and to the south, and have addressed several concerns. PC approved this request with the conditions that Brighton Gardens add additional trees for screening between the building and the neighbors, and also that they have a stormwater detention study. Council sustained this approval 12-1, with Councilmember Runion voting no with no explanation.
Destination Pet – is a new daycare/vet care/overnight boarding facility going into the Hy-Vee strip on State Line Rd. No neighbors came to the community meeting, but if noise becomes a constant complaint/issue, then the SUP can be revoked by Council at a later date. Council sustained this approval 11-2 with Councilmembers Runion and Myers voting no.
VillageFest Committee
VillageFest 2021 is moving forward much like 2020 with a few new features! Watch for more info.
Finance Committee
The Finance Committee (I'm on this committee too) will meet this week to review the Decision Packages submitted by staff and councilmembers. Decision Packages are new programs or expenses that aren't yet part of the typical annual PV budget. In no particular order:
Diversity Committee
The Diversity Committee is working on a plaque installation to acknowledge and not forget PV's racist history via the J.C. Nichols deed restrictions and covenants and collaborating with Stand up for Black Lives-PV and JoCo NAACP on a Juneteenth celebration. Asst. City Admin, Tim Schwartzkopf, is finalizing his research and recommendation for a local organization to provide diversity equity and inclusion training to City staff, council, and committees.
The Shawnee Mission East student newspaper, The Harbinger, wrote a nice article on PV's new Diversity Committee. You can read the excellent reporting HERE.
Councilmember Ron Nelson let Council know that May is Asian Pacific American Heritage Month, and if you're interested in Bystander Intervention Training, please contact him for more information.
Arts Council
A reminder to mark your calendars for Friday, June 11th at 5:30 p.m. for our first annual Prairie Village Art Walk! We will also host a small ribbon-cutting for the "boy on a bike" sculpture which is PV's newest public art piece.
Also, the 4th Annual Art of Photography (virtual) exhibition is still live at artspv.org/aop2021 with art available to purchase.
Mayor's report
The COVID vaccination is now widely available. JoCo is even offering transportation or in-hope help to get residents vaccinated.
The JoCo Commissioners let the mask mandate expire and adopted a new resolution "strongly recommending" masks and the following of the rest of the CDC recommendations.
Chief of Police Update
Chief Roberson informed Council that the "metro squad" of detectives from around the area was activated for the homicide at Deauville Apartments Saturday. The team identified a suspect within a few hours, tracked him to Des Moines, and he is now being held there for extradition.
PVPD also participated in Coffee with a Crossing Guard last week to show their "appreciation for our school crossing guards who dedicate their time throughout the year to keep our kids safe! A warm cup of coffee and a donut while [PVPD officers] crossed the kids!"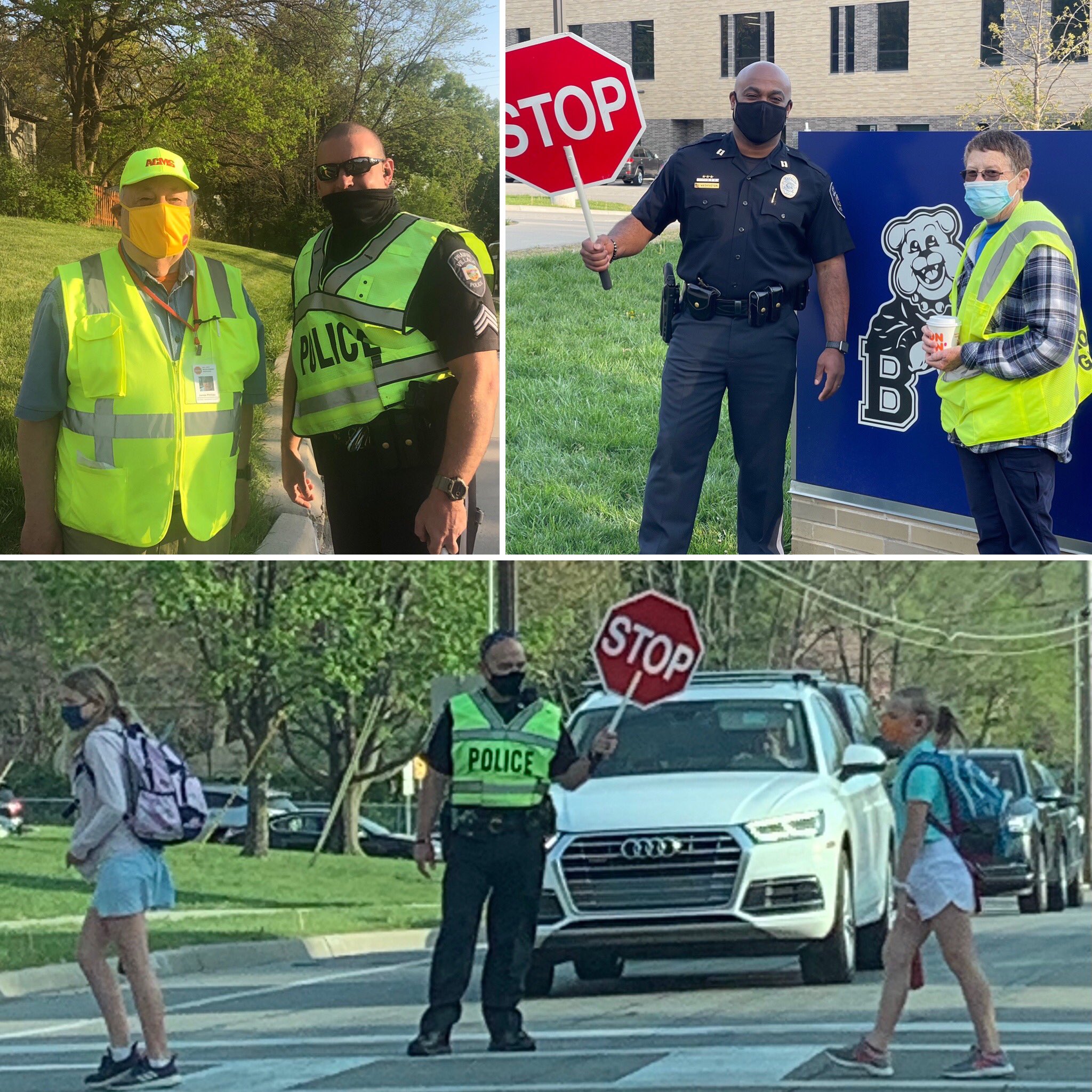 Deputy City Manager Updates
The new Sustainability Grant Program launched Monday, and Jamie Robichaud shocked this councilmember when she said there was a line waiting to sign up when she showed up at work that morning! She also said her staff fielded a lot of calls about the program in the weeks leading up to the launch, and they did a fabulous job rising to the occasion for implementing this new program on the fly.
Consolidated Fire District No. 2 Update
New Fire Chief, Steve Chick, attended his first PV Council meeting as our Fire Chief, and he plans to make his visits a quarterly occurrence to keep us all updated on FD happenings.
For 2021 Q1, 1,600 calls for the Fire District (8 cities) – nearly 600 of those were from PV.
Estimated property loss for those calls is less than $10,000, which is a reasonably low number.
Four firefighters retired over the last year depriving the District of over 100 years of experience, but because CFD2 is a "destination department" they were able to hire 4 new staff with a combined 31 years of experience, instead of the average of about 10.
Next time:

ALS First Response Program update
Evaluation of the move of Station 23 adjacent to PV Muni Complex and how it's affected response times.
You can sign up to receive the CFD2 Newsletter at the bottom of THIS PAGE.
New Business
Council approved the following items:
Animal Ordinance revision (discussed at the 4/19 meeting)
Crack/Seal & Microsurfacing contract with Pavement Mgmt. LLC
CARS (County Assistance Road System) funding request for 2022-2026
2022 Capital Infrastructure Program (CIP) Streets Update & Request
Here is the 2021 Current and Planned Work List:
Street Projects

Granada, Homestead to 66th 71st Street, State Line to Belinder
Tomahawk, 79th to 81st 82nd, Somerset to Roe
Chadwick, 77th to Canterbury 87th, Delmar to Roe
El Monte, 91st to 92nd 91st, Delmar to Roe
Delmar, Somerset to 87th Delmar, 90th to 92nd

CARS Project: 79th Street, Roe to Lamar
Drainage Project

Brush Creek PES (Mission and 68th)

Other Projects
Here are the Fair (yellow) and Poor (red) street sections in Ward 3:
I always find this fascinating:
It costs about $1million per mile to repair a street.
It costs about $1.8 million per mile to replace a street entirely.
PV has about 100 miles of streets.
10-11% are currently in "poor" status.
Once in "poor" status, it will be about a 4 year wait until the street gets repaired or replaced due to funding. 🤦‍♀️
Council and staff discussed the merits of increasing our annual street CIP program funding. It's been at about $3m for the last five years with no inflation increase, and no increase during the pandemic which caused an extreme rise in construction costs. One motion was to increase the funding by a certain number (it was somewhat arbitrary) but I asked, "What number of years are we comfortable telling our residents it will be before their road is fixed?" Because I'm not comfortably saying FOUR. But what IS reasonable? What can we manage, and what can we sustain? These questions weren't answered at this time. 😢
Council voted to add a line to the Decision Packages for the Finance Committee to consider including additional funding for the street CIP program (as shown in the screenshots above).
Decriminalizing Marijuana in PV
I voted to continue researching this issue. It was a 6-6 vote, so the Mayor broke the tie also voting in favor of more research. For a detailed recap, I recommend the SM Post article on this (the subscription is worth it!), as I know I can not do the nuances of the conversation justice. I do think it's important to proactively research the unintended consequences of a change like this as Chief Roberson outlined, but I also don't want to let fear of the worst case scenario or being change-averse rule our decision making. I'll add that D.A. Steve Howe's contributions to this conversation didn't help anyone find middle ground, as he made several statements that ruined any chance he had of convincing me and probably others. He actually asked "what world problems are we trying to solve?" – where has he been? Councilmembers Selders and Graves made it clear when they co-sponsored this request: the black community is disproportionately impacted by marijuana laws and destigmatization will make marijuana more likely for helping folks with seizures, PTSD, chronic pain, glaucoma, muscle spasms, and side effects from cancer treatment.
Still need a vaccine? Click this link to find one near you: https://vaccinefinder.org/search/
Closing
So that's it for last week. Some things I'm working on:
Celebrating my daughter's 15th birthday! It's a birthday WEEK for her. 😜
Getting ready to turn 45 myself next week!
Take care, continue wearing your masks, and get vaccinated!
Stay positive; test negative.