Check out next week's agenda! Please let me know if you have any questions by emailing me at blimbird@pvkansas.com.
The next meeting of the Prairie Village City Council will be hybrid via in-person, Zoom, and Facebook Live. You do NOT have to have an FB account to view the meeting. You will be able to view it HERE when the time comes.
If you would like to speak LIVE during the public participation portion of the meeting, please notify City Clerk Adam Geffert at cityclerk@pvkansas.com, and provide your name, address, and email address prior to 3 p.m. on the day of the meeting. The City will provide you with a link to join the meeting and will call on those who signed up to speak once public participation begins. Members of the public will not be able to participate in the meeting unless they sign up with the City Clerk ahead of time. Each individual that wishes to speak will be given 3 minutes. To submit a written comment to Council, please send your comments to councilmembers@pvkansas.com by the same deadline.
If you need special accommodations, similar to our in-person meetings, a resident always has two business days to request an ADA accommodation for our virtuahttps://www.pvkansas.com/home/showdocument?id=12001l meetings should they need it. So, as an example for the hearing-impaired, with notice, we could line up a sign language interpreter to be present during the live meeting via Zoom.
Here are the highlights of the City Council Meeting Agenda for the Prairie Village City Council Meeting – Monday, November 1, 2021: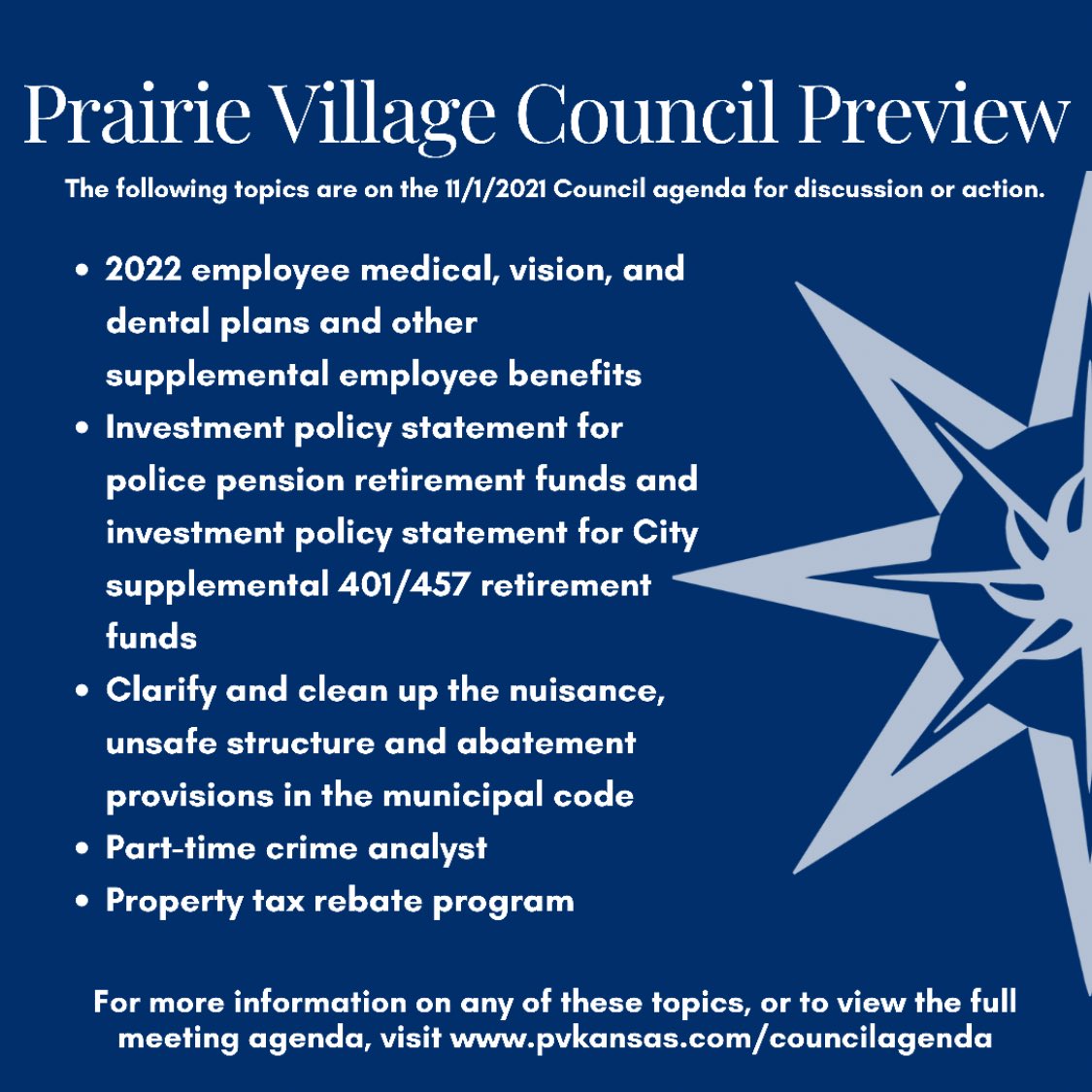 The image above from Public Information Officer, Ashley Freburg, includes PV City Council Preview and the following bullet points:
National Native American Heritage Month proclamation
Reflection on Mayor Taliaferro
Consider approval of 2022 employee medical, vision, and dental plans and other supplemental employee benefits
Consider revisions to Council Policy 055: Investment Policy Statement for Police Pension Retirement Funds
Consider New Council Policy 054: Investment Policy Statement for City Supplemental 401/457 Retirement Funds
Consider adoption of Ordinances 2459, 2460, and 2461 to clarify and clean up the nuisance, unsafe structure and abatement provisions in the municipal code
Consider approval of the hiring of part-time Crime Analyst
Consider property tax rebate program
See the whole agenda and Council packet HERE.
Have a wonderful weekend!
👋