Check out next week's agenda! Please let me know if you have any questions by emailing me at blimbird@pvkansas.com.
The next meeting of the Prairie Village City Council will be hybrid via in-person, Zoom, and Facebook Live. You do NOT have to have an FB account to view the meeting. You will be able to view it HERE when the time comes.
If you would like to speak LIVE during the public participation portion of the meeting, please notify City Clerk Adam Geffert at cityclerk@pvkansas.com, and provide your name, address, and email address prior to 3 p.m. on the day of the meeting. The City will provide you with a link to join the meeting and will call on those who signed up to speak once public participation begins. Members of the public will not be able to participate in the meeting unless they sign up with the City Clerk ahead of time. Each individual that wishes to speak will be given 3 minutes. To submit a written comment to Council, please send your comments to councilmembers@pvkansas.com by the same deadline.
If you need special accommodations, similar to our in-person meetings, a resident always has two business days to request an ADA accommodation for our virtuahttps://www.pvkansas.com/home/showdocument?id=12001l meetings should they need it. So, as an example for the hearing-impaired, with notice, we could line up a sign language interpreter to be present during the live meeting via Zoom.
Here are the highlights of the City Council Meeting Agenda for the Prairie Village City Council Meeting – Monday, December 20, 2021: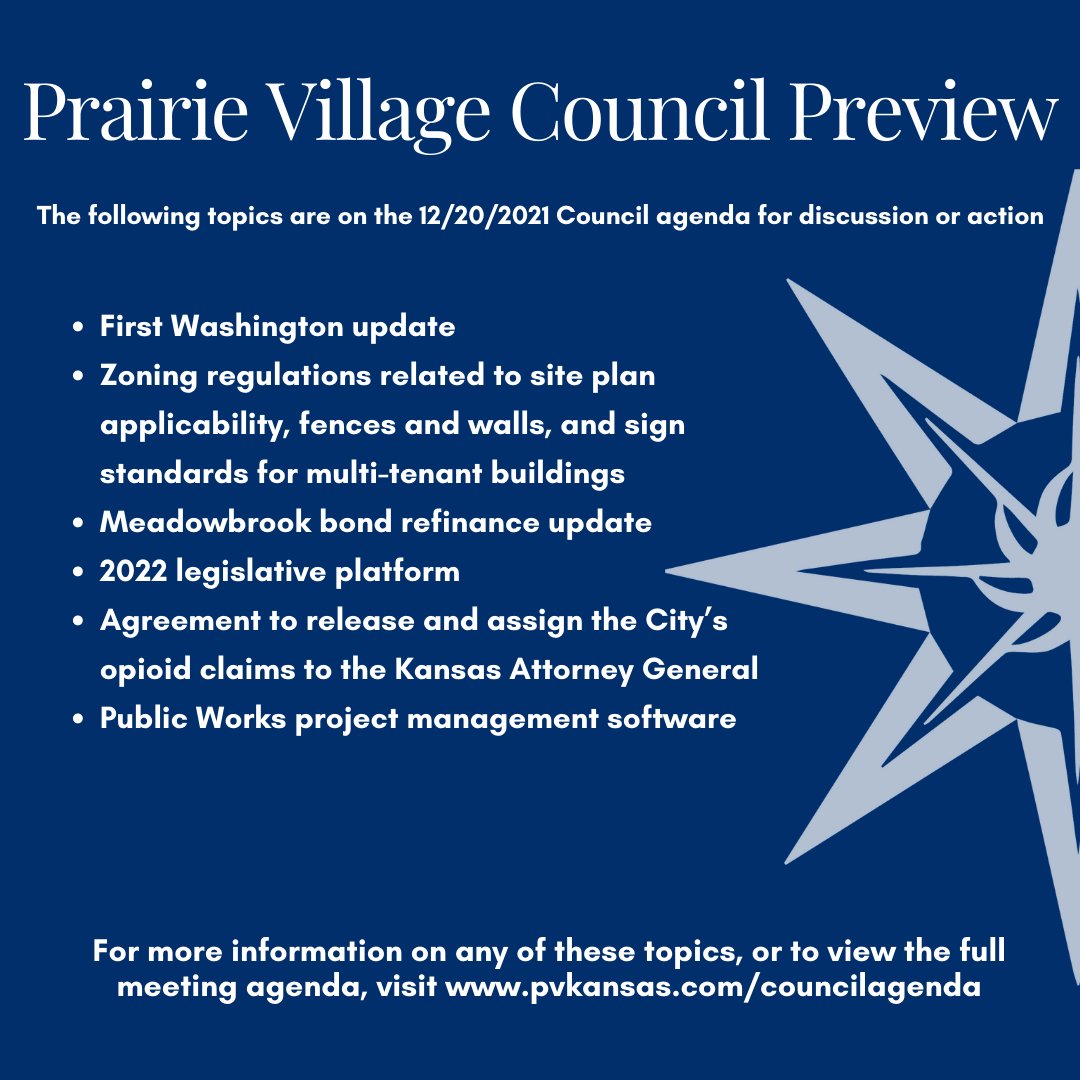 The image above from Public Information Officer, Ashley Freburg, includes PV City Council Preview and the following bullet points:
First Washington update (Prairie Village Shops & Corinth Square/Quarter)
Consider accepting the Planning Commission's recommendation and approving Ordinance 2464 by amending the zoning regulations related to site plan applicability, fences and walls, and sign standards for multi-tenant buildings)
Meadowbrook bond refinance update
Consider approval of the 2022 legislative platform
Consideration of Resolution approving the execution and delivery of an agreement to release and assign the City's opioid claims to the Kansas Attorney General and certifying costs attributable to substance abuse and addiction mitigation in excess of $500.
Consider service agreement for Public Works project management software
See the whole agenda and Council packet HERE.
Have a wonderful weekend!
👋