Check out TONIGHT's agenda! Please let me know if you have any questions by emailing me at blimbird@pvkansas.com.
The next meeting of the Prairie Village City Council will be hybrid via in-person, Zoom, and Facebook Live. You do NOT have to have an FB account to view the meeting. You will be able to view it HERE when the time comes.
If you would like to speak LIVE during the public participation portion of the meeting, please notify City Clerk Adam Geffert at cityclerk@pvkansas.com, and provide your name, address, and email address prior to 3 p.m. on the day of the meeting. The City will provide you with a link to join the meeting and will call on those who signed up to speak once public participation begins. Members of the public will not be able to participate in the meeting unless they sign up with the City Clerk ahead of time. Each individual that wishes to speak will be given 3 minutes. To submit a written comment to Council, please send your comments to councilmembers@pvkansas.com by the same deadline.
Here are the highlights of the City Council Meeting Agenda for the Prairie Village City Council Meeting – Monday, February 7, 2021: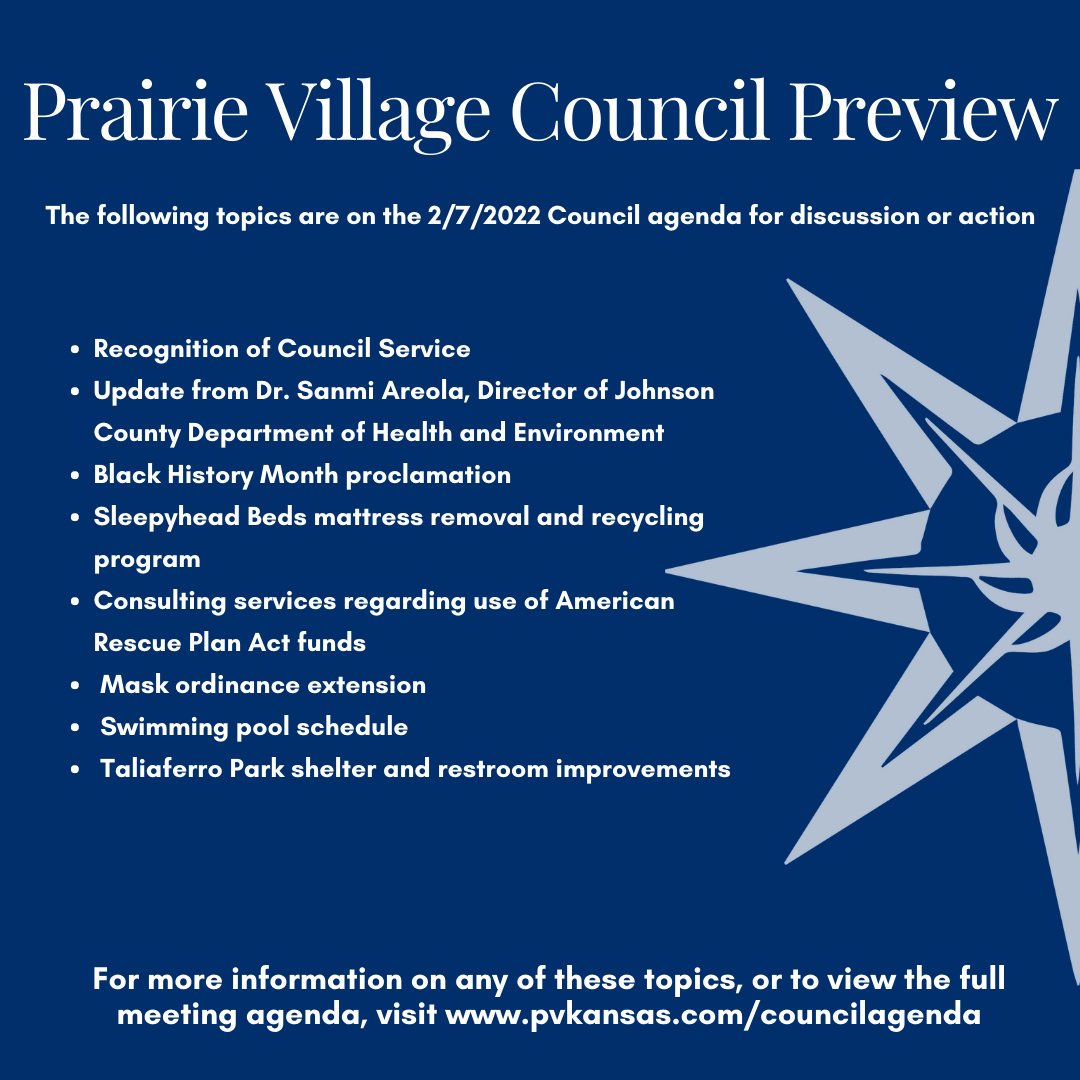 The image above from Public Information Officer, Ashley Freburg, includes PV City Council Preview and the following bullet points:
Recognition of Council Service
Update from Dr. Sanmi Areola, Director of Johnson County Department of Health and Environment
Black History Month proclamation
Consider approval of a mattress removal and recycling program with Sleepyhead Beds
Consider agreement with Witt O'Brien's, LLC to provide consulting services to the City regarding use of American Rescue Plan Act funds
Consider extending ordinance requiring the wearing of face coverings or masks during the COVID-19 public health emergency and recovery
Consider approval of revisions to CP509 – swimming pool schedule
Consider construction contract for Taliaferro Park shelter and restroom improvements (BG460001)
See the whole agenda and Council packet HERE.
Also – Schedule a PCR test for COVID at the Roeland Park location via this LINK. You can also schedule a drive-thru test at Theater in the Park at that link if you're more comfortable driving through.
Have a wonderful week!
👋