Presentations
Teen Council Graduation
The mission of the Prairie Village Teen Council is to give our local teens an opportunity to learn and actively participate in municipal government, positively impact our community, and gain leadership experience. Our five 2021-22 Teen Council members were recognized for their work this past school year with the Prairie Village City Council, and were awarded certificates.
Amalia Millard, Notre Dame de Sion – sophomore
Michael Newbold, Shawnee Mission East – junior
Ayla Ozkan, Shawnee Mission East – junior
Kate Winfield, Shawnee Mission East – junior
Emma Jones, Whitefield Academy – senior
Thank you for your service!
Arbor Day proclamation
Mayor Mikkelson read the proclamation on page 3 of the Council Packet for April 29, 2022.
Earth Day / Mayor's Monarch Pledge proclamation
Councilmember Piper Reimer read this proclamation for April 22, 2022. See page 4 of the Council Packet.
Public Participation
We had our first public speaker for the first time in a while. Former City Councilmember J. Nelson Zoomed in to read a prepared statement about 'transparency'. She doesn't feel like the Mayor/City/Council is transparent enough when it comes to city business and decision-making affecting residents' bottom lines.
Committee Reports
Diversity Committee
Councilmember Inga Selders reported that the Diversity committee met for the very first time in person this past week as all of their previous meetings have been during COVID-19. She notified Council that the committee would be coming back to us later in the year for additional funds.
Arts Council
I shared that the information about the event below and encouraged folks to mark their calendars for the free event and maybe even purchase tickets for the VIP portion: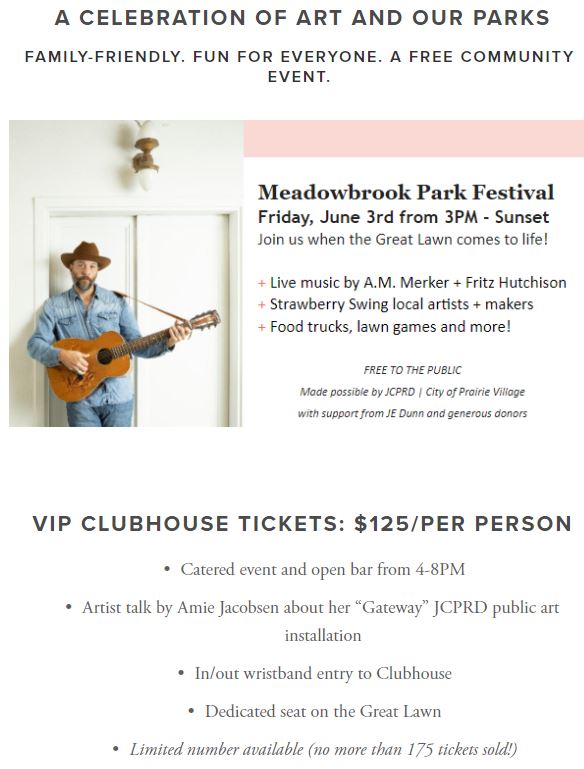 Ad Hoc Housing Committee
Mr. Graves shared that the Ad Hoc Housing committee finalized our recommendations for Council on May 7th, and those will be coming to Council soon to be presented by Mr. Graves and his co-chair Jon Birkel.
Tree Board Committee
Councilmember Greg Shelton shared that the Tree Board is hosting two events:
A celebration with the 'Kansas Arbor Day Poster Contest' Winner, Evelyn Stidham!
Saturday, April 23rd, 2022 at 10:00am
McCrum Park, 6920 Roe Ave
Join the PV Tree Board in celebrating Arbor Day by planting a tree in honor of Deborah Nixon.
City of Prairie Village, Kansas Arbor Day Event – 150 years
Saturday, April 30, 2022 at 10:00am
Wassmer Park, 4805 W 67th Street
Environmental Committee
Councilmember Piper Reimer shared the upcoming Native Plant Sale:
Deep Roots KC
Saturday, April 23rd, 2022 at 10am to 2pm
Harmon Park Pool Complex
See more details at the link above.
She also reminded residents to participate in the Mattress Recycling before Bulky Item Pickup this year if you have mattresses to get rid of. See more info below.
Mayor's report
PV is playing an increasing role in the humanitarian relief efforts for Ukraine

Collected wheelchairs and walkers (have stopped that collection) through the Ukranian Club of Kansas City
Heart to Heart International, in Lenexa, is a good organization to donate to if you'd like to help.
In direct contact with current Mayor of Dolyna, Ukraine: Ivan Dryiv. He sent Mayor Mikkelson a letter, and Mayor read excerpts of that email to Council.
Chief Roberson has become a point person for local law enforcement agencies to collect gently used body armor and other equipment as listed by Mayor Dryiv.

Advent Health announced today that for the first time in two years they have ZERO COVID-19 patients.
Mayor reminded me that Arts Council had an event two Saturdays ago: Art Walk KickOff! LOL!
Today is "Connect" day for the SevenDays of Kindness challenge.
Mayor attended the in-person MARC First Suburbs Coalition meeting where Deputy City Administrator, Jamie Robichaud, was a panelist discussing work force housing.
Climate KC Climate Action Summit was last week and attended by Mayor and several Councilmembers.
KCBJ Capstone Award presentation coming up on April 28th for the award for the Public Works building
There will be a Sharp Law firm ribbon cutting on April 29th.
Bulky Item Pick-up coming up! More info below.
Staff reports
City Administrator
Wes Jordan, City Administrator, reviewed the April Plan of Action (page 78 HERE), and opened up the floor for questions.
Large Item Pickup begins Saturday, April 23rd and is split across 4 weekends. You should have received your postcard in the mail with the map:
This year's annual large item pickup schedule is as follows:   
April 23 – all homes west of Roe and north of 79th Street 
(mattresses picked up April 22 – please sign up by April 20)
April 30 – all homes west of Roe and south of 79th Street 
(mattresses picked up April 29 – please sign up by April 27)
May 7 – all homes east of Roe and north of 75th Street 
(mattresses picked up May 6 – please sign up by May 4)
May 14 – all homes east of Roe and south of 75th Street
(mattresses picked up May 13 – please sign up by May 11)
Also, Mattress Recycling: call City Hall ASAP to get put on Sleepyhead Beds route for pickup if you're pickup is this first weekend.
Mattresses will be collected the Friday before each residence's scheduled large item pickup day. If you plan to put a mattress or box springs at the curb, please visit www.pvkansas.com/PickUpMyMattress to indicate how many mattresses you have and what condition they're in. This program is funded by the Prairie Village Environmental Committee.
Items discarded through the large item pickup are taken to the landfill, so please plan to reuse or recycle any items you are able to. Items discarded must be at the curb by 7 a.m. Mattresses will be picked up a day earlier than other items and must also be at the curb by 7 a.m.
2022 estimated revenue and 2023 preliminary general fund revenue assumptions
This is just an annual review of revenue status as of the first quarter of the year that is helpful in planning for the next budget year. No votes were taken on this topic. Presented by Nickie Lee, Finance Director:
COVID-19 and the American Rescue Plan

Continue to monitor the impact of the ongoing pandemic recovery
Continue to discuss opportunities for American Rescue Plan funds ($3.4m for PV)

Property Taxes

Represents 41% of total revenues
Projections for 2023 budget used the 2022 mill levy rate of 19.322 and reflect estimates assuming full capture of the 12% growth (residential and commercial)

Franchise Fees

Expected

decrease

due to ongoing trends (Evergy, KS Gas, AT&T, Spectrum, SureWest, Google, etc.)

Sales and Use (internet) Tax

Slight growth is projected due to new businesses and use tax collections increasing
Reliance on "top ten" businesses that make up approximately half of sales tax revenue

Motor Vehicle and Gas

Used 2022 budget numbers (2023 estimates are not available yet)
See page 54 of the Council Packet if you'd like to see some charts.
Councilmember Terrence Gallagher asked about the possible reduction in gas tax proposed by some members of the legislature, and how that might affect our projections. Nickie shared that they consult with others who help them budget for that, and they also build some flexibility into the budget because some items, like gas taxes, are so volatile.
2023 Decision packages
This is also just an annual PREview of the decision packages submitted by Council and staff for the next budget year. Often these are one time expenses or higher start-up cost items, but these are sometimes items that become annual expenses. No votes were taken on this topic. Presented by Nickie Lee, Finance Director:
Mayor/Council Submitted Items
Mill Levy Reduction (1 mill or amount tbd) – requested by Mayor/Graves/Limbird/Gallagher, $(493,000)
Sustainability Program Management – Reimer/Shelton, $50,000
Annual Mattress Recycling – Reimer/Shelton, $15,000
Citizen Survey – Mayor, $15,000 Last one was 2018.)
Juneteenth Celebration – Selders, $15,000
Public Arts Fund Annual Contribution- Limbird/Selders/Gallagher, $5,000-10,000
Staff Submitted Items
Information Systems Administrator FTE – Tim Schwartzkopf, $115,000
Additional FTE in IT to assist with cyber security efforts and other IT tasks
Community Development Plan Review Contract – Jamie Robichaud, $40,000
Second Mental Health Co-Responder – Chief Roberson, $32,000
Consider 2022-2023 insurance renewals
The Insurance Committee met on December 14, 2021 to discuss the City's insurance needs for the upcoming year. Additionally, staff and the Insurance Committee members discussed the desire to going out to bid for Property, Casualty, and Worker's Compensation Insurance Brokerage services. Though the City has been pleased with our existing broker (HUB), it is best practice to occasionally go out for bid to ensure the City is still receiving the best services. In January 2022, the City received 4 qualified applications and after a thorough review process decided to stay with HUB with several modifications to the existing relationship, including going to a flat fee model.
After adding coverage to the Cyber Liability line and switching to a flat fee model for our brokers, HUB, the renewal represents an increase of $38,748 or 10.12%, and staff and Council feel strongly that our vendors and have worked hard for us to find savings where possible, and that, particularly in the Cyber line, it could have been much higher.
Council approved unanimously.
ADDED AGENDA ITEM: CHIEF STEVE CHICK CFD2 UPDATE:
COVID mitigation update
Lower COVID numbers have allowed CFD2 to enter Phase 2 of thier 3 phase plan. What this means for CFD2:
Station bays are open to the public for unit tours!
Public Relations events may resume
Ride-outs are approved!
Face coverings only required in public, if required by the business/occupancy
Surgical style face masks will be used on ALL medical calls. Remember to wear a respirator for COVID positive or potential positive patients!
Continue to clean and disinfect stations and equipment regularly and efficiently
Other: Ordered two new engine trucks last year before the 18% price increases!
Discussion of 2023-2027 parks capital improvement program
Melissa Prenger, Public Works, was back this week with the changes to this program based on the previous discussion. It's important to note, and may not have been clear two weeks ago: these projects represent the priorities as established by the Parks and Recreation Committee within the parameters of an existing annual project expenditure of approximately $250,000.
At the April 4, 2022 Council Meeting, the Governing Body requested information on two items for further consideration:
Harmon Park Restroom and Shelter:
The estimated cost of the restroom ($450,000) and shelter ($675,000) are above the annual project parameters. While restrooms have been added in past CIP programs, they have had the ability to be constructed as a stand-alone project. The restroom and shelter at Harmon are best constructed together for optimal placement of both amenities. Since a project of this scope would have to be under design now to be constructed in 2023, staff would recommend placing in the 2024-2025 CIP timeframe as the earliest possible year this could happen since design has not started yet. The funding mechanisms developed will be presented for Governing Body approval in May along with the full CIP.
Pool Maintenance/Improvements:
The pools have been directly tied to the Community/Civic Center conversation. While this ongoing conversation removes the complex from being a topic for individual major renovations of the facilities for the time being, it has not stopped day to day functioning or the need for maintenance.
Consider intergovernmental agreement with WaterOne for the relocation of water main on Windsor Road, from Cherokee to 75th Street
No additional cost to Prairie Village. Just a cooperative agreement to align construction schedules and work on this area of Windsor Road. Council approved unanimously.
Consider interlocal agreement with Kansas City, Missouri for State Line Road – 75th Street to south of 79th Street (City limit)
Much needed work!!! KCMO is ready to participate this year. Council approved unanimously.
Consider 2023-2027 County Assistance Road System (CARS) program
Reminder: THIS year's CARS program project is Nall Ave from 79th to 83rd.
In order to receive CARS funds, the City must annually submit an application containing a list of streets and the estimated costs. The following streets are recommended for the five-year CARS program, 2023-2027. The Public Works Department compiled the list of possible projects below. The work will include, where necessary, full depth pavement repair, curb and gutter replacement, sidewalk repair, new sidewalk, new ADA ramps, milling/overlaying the pavement or UBAS.
It should be noted that the City submits an application annually and can revise future year requests. The 2023 project (Nall Ave from 67th to 75th Streets) is the only project that the City is committing to fund and construct at this time. The CARS costs include construction and construction administration, as the CARS program does not fund design. The PV costs includes design, construction and construction administration. Cities are generally guaranteed to have their first priority project funded but can have multiple projects approved if funds allow.
Consider letter to federal officials to take proactive measures to aid the people of Ukraine
Councilmember Ian Graves asked to add a line to the letter (page 94 of the Council Packet) addressing displaced refugees and made the motion approving the letter with that change. Councilmember Chad Herring seconded, and Council approved unanimously.
ADD'L ITEM: Materials Request by Mayor Dryiv in Ukraine
Mayor proposed a donation of $10k direct financial aid to Ukraine, since it is difficult for PV to procure most of the items on their requested list, and $5k to the Ukrainian Club of KC to help with shipping costs for collected wheelchairs and walkers.
Councilmember Shelton shared that on a call with the U.S. State Dept. weeks ago, it was stated that monetary donations are the preferred method, but recommended reaching out to Representative Sharice Davids to see if there is a different path to send that money rather than direct to Dolyna.
Councilmember Courtney McFadden expressed discomfort giving funds from one governmental entity to another governmental entity.
Our City Attorney, David Waters, cautioned Council to look into various regulations that might govern this type of transfer internationally, even as part of the Sister Cities program itself.
The will of the Council seemed to be that we do some additional research to find out what's possible, as well as what's strictly forbidden, and come back to the next Council meeting with a specific plan.
Discuss Ordinance 2471, creating placement and duration regulations for portable storage units
The document is well-written, but there were a lot of questions about too-tight restrictions for residents that may be doing their best to get the "pods" off-site as soon as possible, so Jamie Robichaud reviewed our code violation process which is very lenient until it becomes clear that residents aren't trying to remedy the situation at all. The Codes Enforcement Officers are mostly educational; they're not going to write violation tickets on day one. This ordinance is mostly to create a clear process for staff to follow because there are several residents who are not complying with friendly communication.
Closing
So that's it for this week.
Some things I've been up to:
Successfully facilitated a hybrid meeting for Arts Council, and enjoyed some face-to-face time with our committee members
Hosted a small going away happy hour for our neighbor and friend, Kerre, who is leaving PV and starting a new adventure in Nashville. 😭 for us, but 🤗 for her.
Spent a day in Topeka meeting with the Kansas Board of Technical Professions
Kicked off the 2022 Prairie Village Art Walk at Meadowbrook Park with committee members Nancy Kalikow Maxwell, Jessie Cartwright and Sherrod Taylor and his wife, Gena; Councilmember Greg Shelton and his family; Mayor Mikkelson and his wife, Margo; my husband, Chris; and some new friends that were able to join us!
Visited the Redlined exhibit at the Johnson County Museum at the Arts & Heritage Center. Hot tip: It's a lot of standing and reading, so wear comfortable shoes and bring your eyeglasses!
Hurt my back in some unknown way, was out of commission for 2-1/2 days, and missed several important things, including:

My first MARC First Suburbs Coalition meeting as Co-Chair. 😥 Thank you to City of Grandview Alderman Damon Randolph for stepping in to cover my agenda items on top of his own!

Spent about 6 hours cleaning out and re-organizing the Arts Council storage closets up at City Hall.
and my day job has gotten super busy too, so that is filling up the hours.
Let me know if you have any questions. Be well and have a great week!
🙂